In the automotive industry, trim inserts play a crucial role in the production of sheet metal stampings. Trim steels are used to trim the metal sheets after forming operation. To ensure that the trim inserts are strong and durable, they must be heat treated to withstand high shear and fatigue loads.
Traditionally, trim inserts have been heat treated using flame or induction methods. However, these conventional methods are associated with several drawbacks, including rolled edges, high heat input, which often results in significant distortion in the dies. To accommodate the distortion, die makers typically leave 0.020" of stock. They come back and hard mill the heat treated dies to get them back to specs. In doing this, they spend substantial time and resources. To overcome these challenges, many automotive manufacturers are turning to laser heat treating for their trim inserts.
Laser heat treating is a cutting-edge technology that uses high-power lasers to precisely control the temperature and heat treatment of the inserts, reducing heat input and minimizing distortion. The low heat input of laser heat treating results in minimal to no distortion in the steels, making it an ideal solution for die makers. The main advantage of laser heat treating is its ability to reduce production costs and turn-around time. Conventional heat treatment methods often require secondary operations such as hard milling to finish the trim inserts. In laser heat treating, the trim inserts are finished machined and laser heat treated, avoiding the need for hard milling and reducing costs up to 20% for trim dies. Additionally, the quick turn-around time of laser heat treating helps to minimize downtime and increase production efficiency.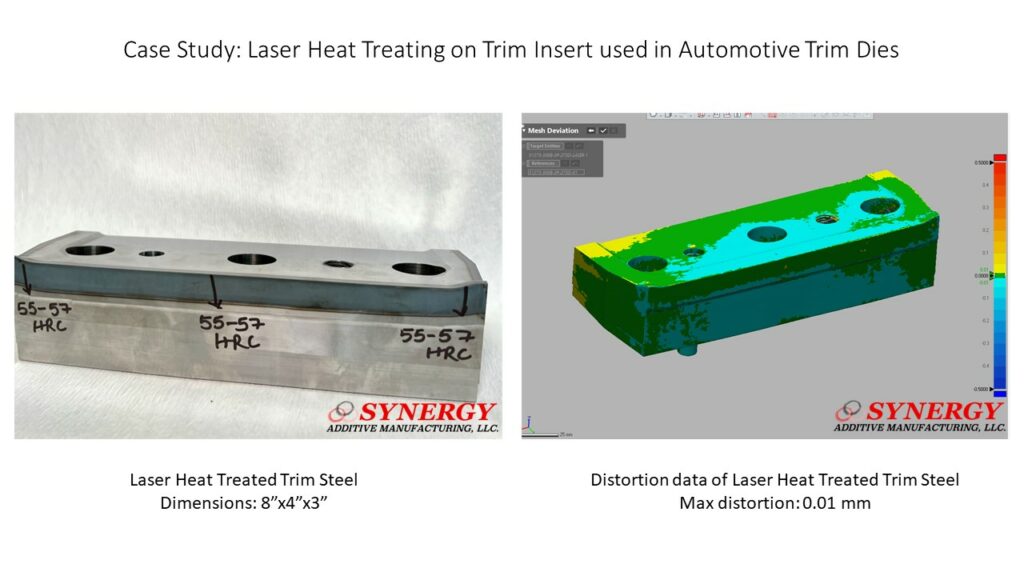 Case Study of Laser Heat Treating on Trim Inserts
Base material: Prehard 4140
Base hardness: 28-32 HRC
Laser Heat Treated hardness: 55-57 HRC
Heat Treat depth: 0.040"-0.060"
Maximum distortion after Laser Heat Treat:  0.01 mm
One of the key benefits of laser heat treating is the high hardness and extremely consistent hardness it provides. The laser heat treating process results in a hardness range that is usually +/- 1 HRC. This level of consistency is essential for ensuring the trim inserts are capable of performing at their highest level in the demanding automotive production environment. Additionally, laser heat treating can reach the theoretical hardness of the material, providing optimal performance for the trim inserts.
At Synergy, we have extensive experience in laser heat treating trim inserts, draw dies, hot stamping dies and variety of other tools for automotive applications. Our state-of-the-art laser heat treating technology, combined with our experienced team of professionals, has made us a preferred supplier for all major OEMs. We have laser heat treated over 500+ castings and have a proven track record of delivering high-quality, reliable results.
In conclusion, laser heat treating is a highly effective solution for improving the performance and reducing costs of trim inserts for automotive dies. With its low heat input, minimal distortion, high hardness, and consistent hardness, it is an ideal solution for automotive tool and die manufacturers looking to enhance their operations and meet the demands of the automotive industry. If you are interested in learning more about our laser heat treating services, please contact us today.